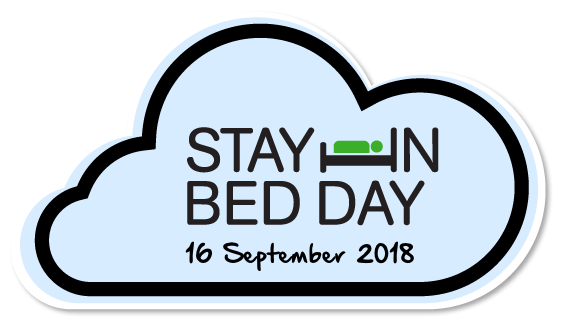 Get Involved
Stay in Bed Day is a great excuse to do simply that… Stay in Bed… or at least in your pyjamas whilst raising funds and awareness of mitochondrial disease (mito). There are a number of ways you can get involved. Click on the photos to find out more.
Involve your School
Do your kids moan about having to put their school uniform on each day? Reduce your morning stress and put a smile on your kid's face by letting them go to school in their PJs!
Involve your Workplace
We've all heard of casual Fridays – take it to a whole new level and wear your PJs to work – or if that's a bit too casual, swap your high heels for slippers for the day!
Get sponsored to
stay in bed
Get sponsored to
stay in bed
Get family and friends to sponsor you to sleep in
Share to raise awareness
Help us increase awareness of mito.
Galston Public School
Staff and students at Galston Public School have held a PJ day for the last four years in memory of Daniel Ibrahim.
Vodafone
"Arranging a PJ Day at our office (in honour of my Mum) was such fun. Seeing staff in their PJs and onesies was great"
Rebecca's Story
"On Stay in Bed Day, I'll stay in bed because I want to – not because I have to." – Rebecca Patterson.
Gabriella's Story
The Por family support Stay in Bed Day each year in memory of their precious daughter, Gabriella.
What we have achieved so far
Over the last nine years, the funds raised by Stay in Bed Day Heroes have helped to support people with mito and their families, as well as fund research into desperately needed treatments and a cure. 
This year, help provide more support and information to Rebecca (read her story above) and the many others affected by mito.
What is Stay in Bed Day?
Stay in Bed Day brings together people affected by mitochondrial disease (mito). It is an opportunity for those with mito, their loved ones and many others to do two amazing things – raise funds and awareness for people suffering from this little known disease.
There are many forms of mito, with many different symptoms including organ dysfunction and failure, seizures, visual and hearing impairment, and intellectual disability to name a few. There are few effective treatments and no cure. As mito robs the body's cells of energy, many sufferers spend extended periods in bed. On Stay in Bed Day we celebrate each and every mito patient, those fighting today and those who mito took too soon.
Living with a disease that most people have never heard of adds to the isolation that many sufferers experience. One in 200 people may carry the genetic changes that can cause mito, with one in 5000 people suffering from a life-threatening form, making it the second most commonly diagnosed, serious genetic disease after cystic fibrosis. Yet, the first time many sufferers hear the term is when their specialist mentions that it could be the cause of their symptoms.
Your donations at work
The funds raised through Stay in Bed Day will allow the Mito Foundation to continue providing and expand its vital work delivering support services to those affected by mito. Patients and their families have access to the Mito Helpline, Mito Information Days, Mito Connect Calls, Support Groups and much more.
Help us raise much needed funds and awareness to help support those affected by this devastating disease.
We hope you can join us for Stay in Bed Day.
Register
Register Now
Register and invite your friends to sponsor you for staying in bed. Snuggle under the doona for a great cause!
Donate and be a Hero– every dollar will make a difference.
Get social and share to let your network know about mito or open email template.
Hold a PJ day at your local school, workplace or in your local community. We have lots of ideas! Contact sarah.madden@amdf.org.au to find out more.
Our Stay in Bed Day Heroes